Nature Faire!
June 3 @ 10:00 am

-

1:00 pm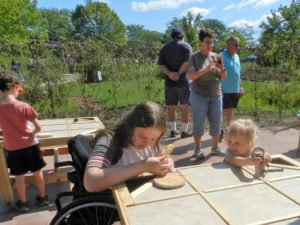 Nature Faire is back!!
Join Richard Bong State Recreation Area for our Nature Faire!
When:  Saturday, June 3rd from 10 a.m. – 1 p.m.
Where:  Shelter 1
Nature Crafts: Crescent wreath, seed paper, plant markers,
kindness rocks
iNaturalist Training: Learn how to use this special app to get the
most out of your encounters with nature.
Bake Sale: Purchase some tasty, home-made treats and help
support the Bong Naturalist Association.
Solar Viewing:
Located in the parking lot near the NEC entrance (by Urban Pond)
1-4 p.m.
Use a special telescope to observe the sun!
Nature Explore Classroom:   
Pollinator Hunt:  Search for fake pollinators hidden around the
NEC. Can you find all of the bees, bats, and butterflies we hid?
Animal Yoga:  Try out some of the animal yoga poses that are
posted in the climbing and crawling area of the NEC.
Movin' to the Music: Head to the music and movement area for
an instrumental jam session and dance party!
Beach Party:  Pretend you are at the beach with the fun beach
elements added to the our sand box play area!
Nature Art Areas:  use the extra art supplies provided in the Nature
Art Areas to make leaf rubbings and nature drawings.
Live Snake Encounter:  Experience the special opportunity to
touch our education snakes and learn about what makes them
such unique and amazing creatures. Find us in Gathering Area
2 of the NEC from 10-10:45 a.m. and again from 12-1 p.m.
Visitor Center Solarium
Book Sale:  Support the Bong Naturalist Association and find a
good book to read. Take your book out into nature and find a good
spot to enjoy it!
Nature Explore Classroom Art Celebration – 11 a.m.
Gather near the NEC Entrance Gate at Gathering Area 1 for the
special celebration of the unique tin art pieces made by our
volunteer Terry!
This will be day filled with exciting nature activities, including live reptile encounters, crafts, and a fishing clinic.
This is also the DNR Free Weekend, so entrance to the park is free!
Meet at Shelter 1.